2022 Chili Cook-Off & Bake-Off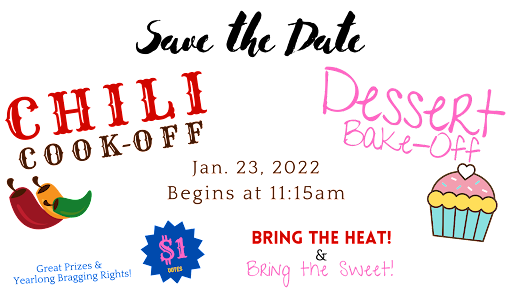 It's back! Bring the Heat and Sweet! Start planning and gathering ingredients for your special or secret recipes. Register to enter one or both categories. Great prizes and winners get bragging rights for a full year!
Don't cook? You can still participate. Taste test and cast your vote for all your favorites. (Vote for one, for more than one, heck, vote several times for all the ones you like…..That's right….you don't have to vote for just one, it's a fund raiser after all!) $1 per vote. Starts at 11:15am (after worship)
---
How the Chili Cook-Off and Dessert Bake-Off Works:
Find out Dad's Secret Chili ingredient is because there are some serious bragging rights at stake! You decide what kind of Chili you want to make: hot and spicy, home style, with beans or without beans, beef, pork, chicken, vegetarian, and so on. The choice is up to you.
Dig out Grandma's super secret recipes and join in the fun! You decide what type of dessert you want to make: cake, cookies, brownies, cupcakes or pies. You choose!
It's free to enter, but please don't tell which one is yours. All names will be hidden until we announce the winner!
All chili entries must be pre-cooked and brought to the cook-off in a crockpot.
All Bake-off entries must be complete and ready to serve.
Please have entries at church no later than the start of worship. Upon entry, contestants will be assigned a number only known to the contestant and the cook-off/bake-off organizers.
Attendees can test all the different varieties of chili and baked goods and then vote for their favorites. Tasting cups, spoons, forks and napkins will be provided. We will also have all the fixin's for the perfect bowl of chili!
We will have a ticket station to purchase voting tickets. A minimum of $1.00 to vote. Vote as many times as you like!
Winner determined by most cash votes received.
Please contact Kari Click ( communications@connectumc.org ) or use the sign-up sheet in the lobby to register or volunteer. It's not required to register, but is helpful for planning.
All money raised will support the Youth for camp costs and other youth events.