Nursery
Nursery (birth-3yrs old)
Connect Church offers a professional nursery for all families with young children. Children are always welcome in worship, but the nursery is offered for family who wish to enjoy the worship experience without having to worry about caring for children.
As you walk down the hallway to the nursery you will be greeted by one of our friendly workers. After signing your child in, you can go to worship knowing that your child will have a safe and fun experience. When parents sign their child into the nursery, they receive a pager that will buzz if they are needed for some reason. We ask that parents please label all bags, bottles, and other items they leave in the nursery with their child. All nursery workers have been background checked, trained in child care, and are CPR certified. Your precious cargo will be well cared for as you participate in the worship experience!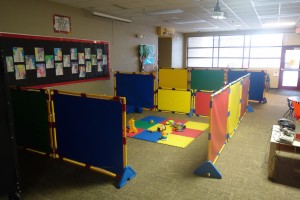 Meet our nursery staff
All of our children's and nursery staff undergo background checks and adhere to the Safe Sanctuaries policies of the United Methodist Church to ensure the safety of our children.