Examine yourselves to see whether you are in the faith; test yourselves. 2 CORINTHIANS 13:5 NIV
It closely concerns every one of us to apply personally and practically our Lord's teachings about building upon a sure foundation. We each need to diligently examine what foundation we have built upon, whether on a rock or on the sand. How deeply are you concerned to ask, "What is the foundation of my hope?" On what do you build your expectation of entering into the kingdom of heaven? Is it built on your orthodoxy, your right opinions, which you have sadly misnamed faith? Is this not madness? Surely this is building on the sand, or rather, on the froth of the sea. Or again, are you building your hope on what is equally unable to support it-perhaps, on belonging to an excellent church, one reformed after the true scripture model, blessed with a pure doctrine, an apostolic form of government? These are truly reasons for praising God, as they are certainly helps to holiness, but they are not themselves holiness. And if they are separate from it, they will profit nothing. Indeed, they will leave us all the more without excuse and exposed to the greater damnation. So this foundation, likewise, is like building upon the sand. We cannot, we dare not, rest here.
Wesley, John (2011-02-01). Renew My Heart (Classic Insights) . Barbour Publishing, Inc.. Kindle Edition.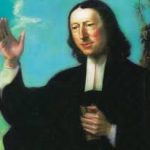 "And the rain...the floods...the winds...slammed against that house; and yet it did not fall, for it had been founded on the rock." MATTHEW 7:25
Let not even the one who builds on the everlasting Rock of Ages think that there will be no more warfare. He or she is not out of the reach of temptation. It still remains for God to prove the grace He has given. Even the wise ones will be tried as gold in the fire, tempted not less than those who do not know God-perhaps abundantly more. For Satan will not fail to try to the uttermost those he is not able to destroy. The rain will furiously descend-only at such times and in such manner as seems good, not to the prince of the power of the air but to Him whose kingdom rules over all. The floods, the torrents, will come; they will lift up their waves and rage horribly. But the Lord sits above the waterfloods. He remains King forever, and He will say to them also, "Just to here shall you come and no farther. Here shall your proud waves be stayed." The winds will blow and beat upon that house as though they would tear it from the foundation. But they cannot prevail; it does not fall, for it is founded upon a rock. The wise ones build on Christ by faith and love; therefore, they shall not be cast down. Though the waters rage and swell, and the mountains shake at the tempest, still they are safe under the shadow of the Almighty.
Wesley, John (2011-02-01). Renew My Heart (Classic Insights) . Barbour Publishing, Inc.. Kindle Edition.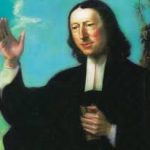 Jesus Christ is the same yesterday and today and forever. HEBREWS 13:8
The Lord Jesus Christ is fitly called the everlasting Rock of Ages for He changes not. To Him, both the men of God of old and the apostle citing His words bear witness: " 'You, LORD, in the beginning laid the foundation of the earth, and the heavens are the work of Your hands. They will perish, but You remain; and they will all grow old like a garment; like a cloak You will fold them up, and they will be changed. But You are the same, and Your years will not fail'" (Hebrews 1:10-12 NKJV). Wise, therefore, is the one who builds on Him; who lays Him as the only foundation; who builds only upon His blood and righteousness, upon what He has done and suffered for us. On this cornerstone, the wise one fixes his or her faith, and rests the whole weight of the soul upon it. These are taught of God to say, "Lord, I have sinned! I deserve the nethermost hell, but I am justified freely by Your grace through the redemption that is in Jesus Christ. And the life that I now live, I live by faith in Him who loved me and gave Himself for me. The life I now live is a divine, heavenly life, a life that is hid with Christ in God." I now live, even in the flesh, a life of love, of pure love both to God and to my fellows. And, thanks be to God, doing all to His glory.
Wesley, John (2011-02-01). Renew My Heart (Classic Insights) . Barbour Publishing, Inc.. Kindle Edition.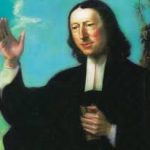 "Everyone who hears these words of mine and puts them into practice is like a wise man who built his house on the rock." MATTHEW 7:24
Examine the wisdom of those who do the sayings of our Lord, those who build upon a rock. They are indeed wise, who do "the will of My Father who is in heaven." They are truly wise whose righteousness exceeds the righteousness of the scribes and Pharisees. They are poor in spirit, knowing themselves as also they are known. They see and feel all their sin and guilt until it is washed away by the atoning blood of Christ. They are conscious of their lost condition, of the wrath of God abiding on them, and of their utter inability to help themselves till they are filled with peace and joy in the Holy Spirit. Then they are meek and gentle, patient toward all, never returning evil for evil but rather a blessing, and thus overcome evil with good. Their souls are athirst for nothing on earth, but only for the living God. These have love for all, even ready to lay down their lives for their enemies. They love the Lord their God with all their heart, mind, soul, and strength. Those alone shall enter into the kingdom of heaven who, in this spirit, do good to all, and who for that cause are hated, reproached, and persecuted, yet still rejoice and are exceeding glad. These know in whom they have believed and are assured that these light, momentary afflictions will work out for them "an eternal weight of glory."
Wesley, John (2011-02-01). Renew My Heart (Classic Insights) . Barbour Publishing, Inc.. Kindle Edition.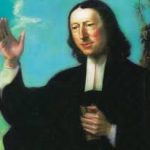 "The precepts of the Lord are right, giving joy to the heart." Psalm 19:8
There is a kind of order wherein God Himself is generally pleased to use these means in bringing a sinner to salvation. One goes senselessly on in his own way. God comes upon him unaware-by an awakening sermon or conversation, an awful providence, or a stroke of His Convincing Spirit without any outward means. Having now a desire to flee from the wrath of God, he purposely goes to hear how it may be done. If he finds a preacher who speaks to the heart, he is amazed and begins searching the Scriptures.
The more he hears and reads, the more convinced he is, the more he meditates day and night. By these means, the arrows of convition sink deeper into his soul. He begins to talk of the things of God and to pray to Him, scarce knowing what to say. Perhaps it is only in "groans which cannot be uttered," perhaps doubting whether the high and lofty God will regard such a sinner as he. Se he goes to pray those who know God, in the congregation. He observes others partaking of the Lord's Supper. He thinks, "Christ has said, 'Do this!' How is it that I do not? I am too great a sinner; I am not worthy."
He struggles awhile, finally breaking through ; and so he continues in God's way: in hearing, reading, meditating, praying, and partaking of the Lord's Supper; till, in the manner that pleases Him, God speaks, "Your faith has saved you. Go in peace."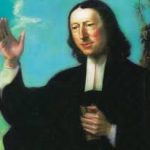 The Lord is my strength and song and He has become my salvation. Exodus 15:2
"Yes," say some, "but God has appointed another way: 'Stand still ad see that salvation of God.'" Let us examine the Scriptures t which you refer.
The first of them, with the context, runs thus:
"10 As Pharaoh approached, the Israelites looked up and saw the Egyptians marching after them, and they were very frightened; so the Israelites cried out to the Lord. 11 Then they said to Moses, "Is it because there are no graves in Egypt that you have taken us away to die in the wilderness? What is this that you have done to us by bringing us out of Egypt? 12 Did we not say to you in Egypt, 'Leave us alone; let us serve the Egyptians?' For it would have been better for us to serve the Egyptians [as slaves] than to die in the wilderness."
The Sea Is Divided
13 Then Moses said to the people, "Do not be afraid! Take your stand [be firm and confident and undismayed] and see the salvation of theLord which He will accomplish for you today; for those Egyptians whom you have seen today, you will never see again. 14 The Lord will fight for you while you [only need to] keep silent and remain calm."
15 The Lord said to Moses, "Why do you cry to Me? Tell the sons of Israel to move forward [toward the sea]. 16 As for you, lift up your staff and stretch out your hand over the sea and divide it, so that the sons of Israel may go through the middle of the sea on dry land." Exodus 14:10-16
This was the salvation of God, which they stood still to see, by marching forward with all their might!
So let us believe God and follow his commands, waiting on him in His way, using the means of grace He has appointed.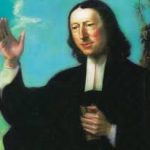 O merciful GOD, by whose bounty alone it is, that this day is added to my life, I beseech thee so to guide me in it by thy grace, that I may do nothing which may dishonor thee, or wound my own soul, but that I may diligently apply myself to all such good works as you have prepared for me to walk in; and, Lord, I beseech thee, give thy angels charge over me, to keep me in all my ways, that I and mine may be safe under thy gracious protection, through JESUS CHRIST.
O LORD, pardon the wanderings and coldness of these petitions; and deal with me, not according to my prayers or deserts, but according to my needs and thine own rich mercies in JESUS CHRIST, in whose blessed name and words Y conclude my imperfect prayers, saying, Our Father, (- At night, when it draws towards the time of rest, bethink thyself haw you have passed the day; examine thine own heart, what sin, either of thought, word, or deed, you have committed, and what opportunity of doing good you have omitted; and whatsoever thou findest to accuse thyself of, confess humbly to GOD, renew thy purposes of amendment, and beg his pardon in CHRIST; and this not slightly, but with all devout earnestness, as you wouldst do if. you went sure thy death were as near approaching as thy sleep, which for ought you knows may be, and therefore you should no more venture to sleep unreconciled to GOD, than you wouldst dare to die so. In the next place, consider what special mercies you have that day received, or if you have had any great deliverance, either front some dangerous temptations, or from any great and apparent peril, andff'er to God thy hearty praise for the same; or if nothing extra-ordinary have happened, and you have been kept even
from the approach of danger, you have not the less, but the greater cause to magnify GOD, who has so guarded thee, that not so notch as the fear of evil has assaulted thee. And therefore omit not to pay him the tribute of humble thankfulness, as well for his daily preservations as his more extraordinary deliverances. And above all, endeavor still, by the consideration of his mercies9 td have thy heart more closely knit to him, remembering that every favor received is a new obligation upon thee to love and obey him.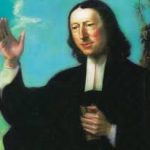 "Eat this bread and drink this cup." 1 Corinthians 11:26
All who desire an increase of the grace of God are to wait for it, thirdly, in partaking of the Lord's Supper, for this also is a direction the Lord Himself gave. "The same night which He was Betrayed (He) took bread; and...broke it and said, 'Take, eat; this is my body' [that is, the sacred sign of my body]...'do this in remembrance of me.' For as often as you eat this bread and drink this cup, you proclaim the Lord's death till He comes" again (1 Corinthians 11:23-26). By these visible signs, we openly exhibit before God, angels, and our fellow creatures our solemn remembrance of His death till he returns in the clouds of heaven.
The direction for His remembrance first given by our Lord is expressly repeated by the apostle. "Let him eat, let him drink"-both in the form of command. These words do not imply a bare permission only, but a clear, explicit command. It is a command to all those who already are filled with peace and joy in believing. It is likewise for those who can truly say, "The remembrance of our sins is grievous unto us, the burden of them is intolerable." All these persons may find a sweet means of grace in eating and drinking at the table of our Lord.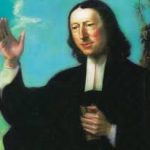 "All Scripture is given...of God." 2 Timothy 3:16
Hearing, reading, and meditating on the scriptures is a means whereby god no only gives, but also confirms and increases, true wisdom. St. Paul wrote to Timothy: From childhood you have known the Holy Scriptures, which are able to make you wise for salvation though faith which is in Christ Jesus" (2 Timothy 3:15). The same truth (namely that this is the great means God has ordained for conveying His manifold grace to man) is delivered in the fullest manner in the words that immediately follow: "All Scripture is given by inspiration of god." Consequently, all Scripture is infallibly true "and is profitable for doctrine, for reproof, for correction, for instruction in righteousness" to the end "that the man of God may be complete, thoroughly equipped for every good work".
This is spoken primarily and directly of the Old Testament Scriptures Which Timothy had known from a child; the New Testament was not yet written. So St. Paul was very far from making light of the Old Testament! Of these, St. Peter wrote also, "you do well to heed as a light that shines in a dark place, until the day dawns and the morning star rises in your hearts" (2 Peter 1:19)
Let all, then, who desire that day to dawn upon their hearts wait for it in searching the Scriptures.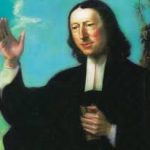 "Seek the LORD while he may be found; call on him while he is near." Isaiah 55:6
Suppose one knows this salvation to be the gift and the work of God, and suppose further that he or she is convinced also that they do not have this gift, how might they attain to it.
If you say, "believe, and you will be saved!" they answer, "True, but how shall I believe?" You replay, "Wait upon God."
"Well, but how am I to wait Using the means of grace, or not? Am I to wait for the grace of God which brings salvation by using the means of grace or by laying them aside?"
It cannot be conceived that the Word of God should give no direction in so important a point; or that the Son of God, who came down from heaven for us and for our salvation, should have left us without direction with regard to a question in which our salvation is so nearly concerned. And, in fact, He has not left us undirected; He has shown us the way in which we should go. We have only to consult the Word of God. Inquire what is written there. If we simply abide by that, no possible doubt can remain.
According to Holy Scripture, all who desire the grace of God are to wait for it in the means which He has ordained-in using, not in laying aside, prayer; hearing, reading, and meditating on the scriptures; and partaking of the Lord's Supper.