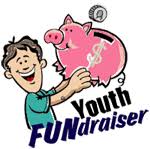 When: June 9th, 11:30 am (after worship)
Parable of the Talents: Throughout the month of May, the youth have been learning about the Parable of the Talents. In this parable, a master entrusts his servants with some money while he leaves for a times. When the master returns, the servants go to him with their money. The first two servants tell the master that they took the money that was entrusted to them and invested it. They took what was given to them and multiplied it. The third servant took the money that was given to him and buried it in a field for safe keeping. He was afraid of what would happen if he lost or misplaced what the master had given him. The master rebuked him for hiding what was entrusted to him while praising the other two servants for their good stewardship.
The Fundraiser: This story is all about taking what God has given us; our gifts, talents, and money; and being good stewards of those things. Over the three Sundays (May 5th, 12th, & 19th), our youth will be discussing how they can take what God has given them and multiply those gifts. On Sunday the 26th, Connect will be giving every youth who wishes to participate, 25 dollars. In conversation with Youth Pastor, Matt Austin, and each other, they are tasked with being faithful stewards of that money with the goal of multiplying it for use towards their Branson trip. On Sunday June 9th, we will have a Youth Sunday where the youth will be invited after service to showcase and sell whatever they have decided to make, bake, or create. We will be cooking lunch for the church, setting up the bounce house, and making snow cones for everyone. The ideas your kids have shared so far have been very exciting. We encourage you to be in conversation with them as they try to come up with creative ideas.
Please contact Youth Pastor Matt Austin if you have any questions or would like your child to participate. matt@connectumc.org or info@connectumc.org