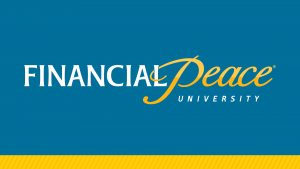 ---
Financial Peace University (FPU) is a nine-week, life-changing program that empowers and teaches you how to make the right money decisions to achieve your financial goals and God's plan for your life. The course includes practical lessons on eliminating debt, building wealth, giving like never before, and much, much more!
When and Where is the Class?
The class will begin on Sunday, September 9th at 4:00pm and will continue every Sunday for 9 weeks. We will meet at the church in classroom 4.
Who is Financial Peace University for?
It's for everyone! Whether you are already winning with money or are struggling to make ends meet, Financial Peace University will teach you how to save and invest, live on less than you make, and give like never before — and you'll have a great time doing it. Financial Peace University is as entertaining as it is practical!
This program has helped millions of families apply the wisdom of Scripture to their personal finances, and many of those families are now living and giving like never before.
Applying God's word radically changes your life. On average, Financial Peace University graduates have paid off over $5,300 in debt and saved $2,700 during the 63-day program!
What will I learn?
Step-by-Step Cash Flow Planning
Debt Snowball Plan and Technique to Eliminating Debt
How to Invest Wisely (Insurance, Real Estate/Mortgages and Retirement)
What does the Bible have to say about money?
God has given us more than 800 scriptures about money. Here are a few of the many verses that will help you understand how God views finances:
No one can serve two masters. Either he will hate the one and love the other, or he will be devoted to the one and despise the other. You cannot serve both God and Money. — Matthew 6:24
… but as they go on their way they are choked by life's worries, riches, and pleasures … — Luke 8:14
Go to the ant, O sluggard, observe her ways and be wise, which, having no chief officer or ruler, prepares her food in the summer and gathers her provision in the harvest. — Proverbs 6:6–8
---
.