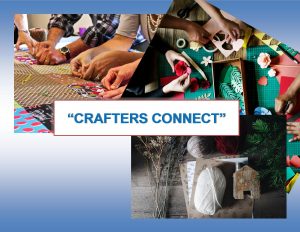 OUR MISSION:
To make disciples of Jesus Christ by teaching and learning home arts skills within a Christian context and prayerful atmosphere
OUR PURPOSE:
Crafters Connect primarily exists for attendees to know Christ better and make Christ known to others through the teaching and learning of home arts such as quilting, knitting, crocheting, scrap-booking, paper-crafting, photography, crock-pot cooking, bread-making, etc. Secondarily, home arts items will be made throughout the year for various (undetermined) outreach ministries of either Connect United Methodist Church or Oklahoma United Methodist Conference (such as Pearl's Hope or Exodus House).
Servant leaders/contacts: Susan Grove and Karen Gross. Please contact Susan or Karen with any questions or interests for future class events. (Inquires for more information on this group may also be sent to Karen at kjb6364@gmail.com or Susan at rev.susan.grove@gmail.com)
Membership: There is no formal membership; anyone may attend any/all of the sessions. Open to any Connect UMC member or attendee: women, men, youth/teens (when attending with participating parent or guardian)
MEETING TIME AND PLACE:
NOTE UPDATED TIME!
Tuesday afternoons, 1:00 pm -4:00 pm, at 6501 Applewood Dr., Edmond, OK 73034
Class schedule and times are subject to change (due to holiday or weather). Suggest first time attendees contact group leader if wish to confirm class session.
---
2019 SCHEDULE:
September 10th – October: Continuation of "Quilting a Sampler"
Continuing learning quilting. Attendees may bring their own fabric and/or "fat quarters" to the meeting. Other materials/notion will be available for learners to use without purchasing.
October 29 – Until December 3rd: Prayer quilts. Group will create small quilts, prayed over during process of creating, and gifted to Connect congregation or individuals in their personal time of need. Supplies are provided at this time, but gladly accept any donated materials.
December 10th – December 31st: Christmas – New Years Break. No classes. We will resume January 2020. Happy Holidays!
---
General Class Format:
Gathering, Prayer, devotion, note-writing
Teaching demonstration
Practice skill
Break/light refreshments
Practice skill
Clean-up, prayer, and dismissal