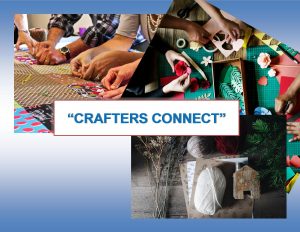 OUR MISSION:
To make disciples of Jesus Christ by teaching and learning home arts skills within a Christian context and prayerful atmosphere
OUR PURPOSE:
Crafters Connect primarily exists for attendees to know Christ better and make Christ known to others through the teaching and learning of home arts such as quilting, knitting, crocheting, scrap-booking, paper-crafting, photography, crock-pot cooking, bread-making, etc. Secondarily, home arts items will be made throughout the year for various (undetermined) outreach ministries of either Connect United Methodist Church or Oklahoma United Methodist Conference (such as Pearl's Hope or Exodus House).
Servant leaders/contacts: Susan Grove and Karen Gross. Please contact Susan or Karen with any questions or interests for future class events. (Inquires for more information on this group may also be sent to info@connectumc.org. )
Membership: There is no formal membership; anyone may attend any/all of the sessions. Open to any Connect UMC member or attendee: women, men, youth/teens (when attending with participating parent or guardian)
MEETING TIME AND PLACE:
Tuesday morning, 9:00am -12:00pm, at Connect United Methodist Church, classroom 4
(Currently only daytime group meeting. Evening group may be formed if interest given. Contact leaders if you're interested participating in an evening group.)
---
2019 SCHEDULE:
March 26th – April 16th: Learning basic knitting. Includes demonstration of knitting prayer shawls. Attendees are invited to bring a project of their own choosing.
April 23rd – May 28th: Quilting a Sampler.
Different blocks will be taught each week (6 weeks total). Attendees may bring their own fabric and/or "fat quarters" to the first meeting. Other materials/notion will be available for learners to use without purchasing.
---
General Class Format:
9:00- 9:05 Gathering
9:05- 9:15 Prayer, devotion, note-writing
9:15-10:00 Teaching demonstration
10:00-10:30 Practice skill
10:30-10:40 Break/light refreshments
10:40-11:45 Practice skill
11:45- noon Clean-up, prayer, and dismissal