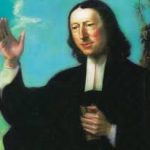 God created man in His own image. GENESIS 1:27
Why must we be born again? The answer lies in the scriptural account of the creation. We read that the three-one God said, " 'Let Us make man in Our image, according to Our likeness. ...' So God created man in His own image" (Genesis 1:26-27 NKJV). This image was, first, a natural image, a picture of His own immortality, a spiritual being, with understanding, freedom of will, and various affections. It was, likewise, a political image, the governor of this lower world, having dominion over the fish of the sea and over all the earth. But it was chiefly God's moral image in which man was created, which, according to the apostle, is "righteousness and true holiness" (Ephesians 4:24 KJV). In this righteous and holy moral image of God, man was made. "God is love" (1 John 4:8, 16 KJV). Accordingly, man, at his creation, was full of love; it was the sole principle of his tempers, thoughts, words, and actions. God is full of justice, mercy, and truth; so was man as he came from the hand of his Creator. God is spotless purity; and so was man, in the beginning, pure from every sinful blot. Otherwise, God could not have pronounced him "very good" (Genesis 1:31 KJV). There is no medium: An intelligent creature not loving God, not righteous and not holy, is not good at all, much less to be pronounced by God "very good." So our state at creation was very good.
Wesley, John (2011-02-01). Renew My Heart (Classic Insights) . Barbour Publishing, Inc.. Kindle Edition.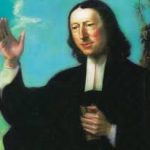 "Unless you are converted and become as little children, you will by no means enter the kingdom of heaven." MATTHEW 18:3
The first step towards entering into the kingdom of grace is to become as little children-lowly in heart, knowing yourselves utterly ignorant and helpless, and hanging wholly on your Father in heaven for a supply of all your wants. It is further true that unless you are turned from darkness to light, from the power of Satan to God, except you are entirely, inwardly changed, renewed in the image of God, you cannot enter into the kingdom of glory. Thus must everyone be converted in this life, or he can never enter into life eternal. All who are in this sense little children are unspeakably dear to our Lord. Therefore, help them all you can, as if it were Christ Himself in person. And see that you do not offend them, Jesus said (v. 6), or turn them out of the right way; neither hinder them in it. Let us be careful, then, to receive and not to offend the very weakest believer in Christ. For as inconsiderable as some of these may appear to us, the very angels of God have a peculiar charge over them (v. 10). Indeed, these angels are of the highest order, who continually behold the face of the Father, continually appear at the throne of the Most High. And these "little children" are the very ones Christ came to save.
Wesley, John (2011-02-01). Renew My Heart (Classic Insights) . Barbour Publishing, Inc.. Kindle Edition.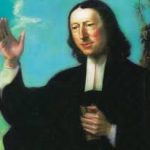 The love of God has been poured out within our hearts through the Holy Spirit who was given to us. ROMANS 5:5
It is not enough to shun evil and do good at all opportunities, nor to seriously use all the means of grace with a sincere design and desire to please God. The great question remains for each of us: Is the love of God poured out in my heart? Does my heart cry that He is my all? Am I happy in God? Is He my delight? And is it written in my heart that those who love God love their neighbor also? Go further: Do I believe that Christ loved me and gave Himself for me? Do I have faith in His blood? Do I believe that the Lamb of God has taken away my sins and cast them as a stone into the depth of the sea, giving me redemption through His blood, even the remission of my sins? Does His Spirit testify with my spirit that I am a child of God? Let no one persuade you to rest short of this prize of your high calling. Cry day and night unto Him who, "while we were without strength, died for the ungodly"; until you know Him in whom you have believed and know that you are indeed altogether a Christian. Then, being justified freely by His grace by the redemption that is in Jesus, you will experience that blessed peace with God through Jesus Christ and know the love of God poured into your heart by the Holy Spirit given unto you!
Wesley, John (2011-02-01). Renew My Heart (Classic Insights) . Barbour Publishing, Inc.. Kindle Edition.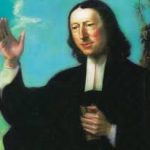 For in Christ Jesus... faith working through love. GALATIANS 5:6 NASB
The right and true Christian faith is not only to believe that the holy scriptures and the creeds which express our beliefs are true. It is to have a sure trust and confidence to be saved from everlasting damnation by Christ. It is a sure trust and confidence which a person has in God that, by the merits of Christ, one's sins are forgiven, and he is now reconciled to the favor of God. From this comes a loving heart to obey His commandments. This faith purifies the heart by the power of God who now dwells within. The heart is cleansed from pride, anger, wrong desire-from all unrighteousness, from "all filthiness of the flesh and spirit" (2 Corinthians 7:1 NKJV). And the heart is filled with a love stronger than death, both to God and to everyone. This love does the works of God, rejoicing to spend and be spent for all. This love endures with joy, not only reproach for the name of Christ, the being mocked, despised, and hated by men and women, but whatever the wisdom of God permits the malice of people or devils to inflict. Whoever has this faith, thus working by or through love, is not only almost, but altogether, a Christian.
Wesley, John (2011-02-01). Renew My Heart (Classic Insights) . Barbour Publishing, Inc.. Kindle Edition.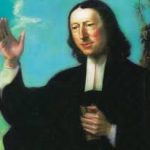 And without faith it is impossible to please Him. HEBREWS 11:6 NASB
We may separately consider faith as being implied in what it means to be altogether a Christian. Yet faith cannot actually be separated from the love of God and of our neighbor. It is, rather, the ground of both. Very excellent things are spoken of faith in the Word of God. Everyone who "believes...is born of God" (1 John 5:1 NASB); "as many as received Him, to them He gave the right to become children of God, even to those who believe in His name" (John 1:12 NASB); and "This is the victory that has overcome the world-our faith" (1 John 5:4 NASB). Our Lord Himself declared that one who believes in the Son has everlasting life and shall not come into judgment, but has passed from death into life (see John 5:24). But let none deceive his or her own soul. The faith which does not result in repentance, love, and all good works is not that true, living faith but a dead and devilish one. Even the devils believe the Old and New Testaments. They believe that Christ was born of a virgin, that He worked miracles and declared Himself very God. They believe that He suffered death to redeem us from everlasting death, that He rose again, is at the Father's right hand, and will judge the living and the dead at the end of the world. Yet they are devils still, and remain in their damnable estate, lacking the true Christian faith. We must have a living faith.
Wesley, John (2011-02-01). Renew My Heart (Classic Insights) . Barbour Publishing, Inc.. Kindle Edition.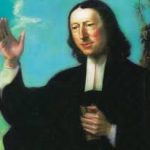 "You shall love your neighbor as yourself." MATTHEW 22:39
The second thing implied in our being altogether a Christian is the love of our neighbor. Our Lord said, "You shall love your neighbor as yourself." If any ask, "Who is my neighbor?" we reply, "Everyone in the world; every child of His who is the Father of the spirits of all flesh" (see Hebrews 12:9). Nor may we exclude our enemies, or the enemies of God and of their own souls. Every Christian loves these also as himself, even as Christ loved us. If you would more fully understand what manner of love this is, consider St. Paul's description of it (see 1 Corinthians 13:4-8). It is long-suffering and kind. It does not envy; it is not rash or hasty. It is "not puffed up"-not arrogant-but makes the one who loves the servant of all. Love does not behave indecently but gives all men and women their due. Love does not seek its own advantage, only the good of others that they may be saved. Love is not provoked to sharpness or unkindness to anyone. It thinks no evil. Love does not rejoice in iniquity, but rejoices in the truth. It covers all evil which it knows of anyone. It believes all good things of others and puts the most favorable construction on everything. Love hopes whatever is for the best of anyone and endures whatever the injustice, malice and cruelty of others can inflict.
Wesley, John (2011-02-01). Renew My Heart (Classic Insights) . Barbour Publishing, Inc.. Kindle Edition.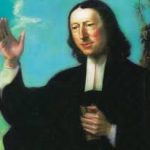 "Love the Lord your God with all your heart." MATTHEW 22:37 NASB We come, second, to what is implied in being altogether a Christian. First, the love of God. So says His Word: " 'You shall love the LORD your God with all your heart, with all your soul, with all your mind, and with all your strength' " (Mark 12:30 NKJV). Such a love as this occupies the whole heart, takes up all the affections, fills the entire capacity of the soul, and employs the utmost extent of all its faculties. One who thus loves is continually rejoicing in God. His delight is in the Lord, his Lord and his all, to whom he gives thanks in all things. All his desire is toward God and to the remembrance of His name. His heart is always crying out, "Whom have I in heaven but Thee? and there is none on earth that I desire beside Thee." Indeed, what can he desire but God? Not the world or the things of the world, for he is crucified to the world and the world is crucified to him. He is crucified to the desire of the flesh, the desire of the eye, and the pride of life. He is dead to pride of every kind: For "love is not puffed up." One who is dwelling in love, dwells in God, and God in him; and he is less than nothing in his own eyes. For the love of God is a mark of the altogether Christian.
Wesley, John (2011-02-01). Renew My Heart (Classic Insights) . Barbour Publishing, Inc.. Kindle Edition.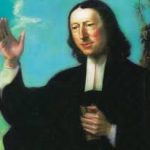 Holding to a form of godliness. 2 TIMOTHY 3:5
The almost Christian shuns all evil, does all possible good, observes the means of grace, and possesses sincerity of heart-a real design to serve God, a hearty desire to do His will-a sincere view of pleasing God in conversation, in all that is done or left undone. For the almost Christian, this design runs through all the tenor of his life. Sincerity is the moving principle in doing good, abstaining from evil, and using the ordinances of God, the means of grace. Right here, it will probably be inquired, "Is it possible that anyone living should go so far as this and yet be only almost a Christian? What more can be implied in being a Christian altogether?" I answer, first, it is possible to go thus far and yet be only almost a Christian. I learn this not only from the Word of God, but also from the sure testimony of experience. I did go thus far for many years, using all diligence to shun all evil and to have a conscience void of offense; redeeming the time; using every opportunity of doing good to all; constantly and carefully using all the public and private means of grace; striving after a steady seriousness of behavior. God is my record, I did this in all sincerity, with a real desire to please Him who had called me to lay hold of eternal life. Yet, my conscience bears me witness in the Holy Spirit, all that time I was but almost a Christian.
Wesley, John (2011-02-01). Renew My Heart (Classic Insights) . Barbour Publishing, Inc.. Kindle Edition.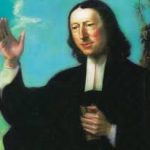 "You almost persuade me to become a Christian." ACTS 26:28 NKJV Ever since the rise of Christianity, many in every age and nation have stood with King Agrippa in his words to the apostle Paul: Almost persuaded to be a Christian. However, since it avails nothing with God to go only thus far, it is important to consider what it means being almost, and also being altogether, a Christian. Implied in being almost a Christian is, first, primitive honesty. Not the honesty merely recommended in the writings of the uncivilized, godless philosophers but the sort which common pagans expected one of another, and many of them actually practiced. They were taught not to be unjust. Not to oppress the poor, nor to use extortion, nor cheat the poor or the rich, nor to defraud, and, if it were possible, to owe no one anything. They commonly allowed that some regard be paid to truth as well as to justice. They held in abomination anyone who would call God to witness to a lie, or one who falsely accused another. Indeed, willful liars were counted disgraceful pests of society. Again, there was a sort of love and assistance they expected from one another. This included not just the little deeds of humanity, but feeding the hungry, clothing the naked, and, in general, giving to the needy whatever they themselves had and did not need. Yet all this is merely primitive honesty, not Christianity.
Wesley, John (2011-02-01). Renew My Heart (Classic Insights) . Barbour Publishing, Inc.. Kindle Edition.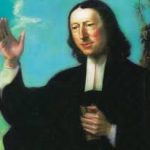 It is with your heart that you believe and are justified. ROMANS 10:10 NIV
Friend, come up higher! Do not be content with good works: feeding the hungry, clothing the naked, visiting the fatherless and widowed in their affliction, or the sick and those in prison, and the stranger. Do you preach the truth of Jesus in the name of Christ? Do the influence of the Holy Spirit and the power of God enable you to bring sinners from darkness to light, from the power of Satan to God? Then go and learn what you have taught: By grace you are saved through faith...not by our works of righteousness...but of His own mercy He saves us (see Ephesians 2:8, Titus 3:5). Learn to hang naked upon the cross of Christ, counting all you have done just so much dross and dung. Apply to Him just in the spirit of the dying thief and the harlot with her seven devils! Lord, save or I perish! Else you are still on the sand; and after saving others, you will lose your own soul. If you do now believe, pray, Lord, increase my faith. Or, if you have not faith, pray, Give me this faith, though it be as a grain of mustard seed. For only saving faith, the faith that builds upon a rock, stands firm when the floods rise and the winds blow. And this true saving faith will indeed be manifested in good works of righteousness.
Wesley, John (2011-02-01). Renew My Heart (Classic Insights) . Barbour Publishing, Inc.. Kindle Edition.