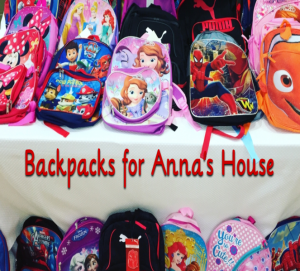 2020 GOAL – PROVIDE/FILL 67 BACKPACKS!
THANKS TO CONNECT MEMBERS AND FRIENDS OF ANNA'S HOUSE OUR GOAL OF 67 FILLED BACKPACKS WAS SUCCESSFUL! THANK YOU ALL FOR YOUR GENEROUS AND CHEERFUL GIVING TO THIS MISSION.
From Sunday (June 5th) through Sunday June 19th, Connect UMC provided names of children who were in need of backpacks and school supplies for the upcoming school year. Filled backpacks were to be returned to Connect by Sunday June 26th. This allows time for Mission's team to organize and distribute them to Anna's House on August 1st.
DATE RECAP:
June 5th – June 19th: Select a child in need (list at church or online)
June 26th (at 10:15am worship): Last day to return filled backpacks to Connect
August 1st: Mission team distribute to Anna's House Foundation
Terrie James is the coordinator for this event (tjames883@gmail.com)