WHERE * WHEN * WHO
WHO IS THIS FOR?
All boys and girls currently enrolled in 6th through 12th grades.
CONNECT YOUTH FELLOWSHIP (CYF) MEETINGS:
Wednesday's 6:15 PM – 7:45 PM
Contact Matt Austin (matt@connectumc.org) if you are not already on parent email chain.
---
Most Wednesdays, our Youth attend a joint meeting with Acts2 Youth to have fun, fellowship, and brief lessons. Group leaves from Connect by 6:30pm – returning around 7:45pm. One Wednesday a month, our Youth will have a Connect only fun social event. (See tentative list below)
2020 SPECIAL EVENT SCHEDULE (TENTATIVE)
January 22nd: Bowling at Showbiz Edmond. Cost $10.00 each + (includes one shared snack, small drink, and bowling/shoe fees) Parents need to give Youth leader cash when you drop your child off. Meet at church to carpool by 6:15.
February 19th: SkyZone Trampoline, Edmond. Cost $20.00 cash each (+ extra for snacks/beverage?). This week parents must check-in each child, confirm online SkyZone waiver completed, and $20 given to Matt. Note special time: Arrive at Connect by 5:45 pm, carpool leaves church at 6:00 pm sharp, returns around 8:15pm.
March 11th: Game Board Night at Edmond Unplugged (cost/details to follow)
April 5th: Parents meeting (after worship) to discuss June Youth Force mission trip
April 15th: Rock Climbing (location/cost/details to follow)
May (No event scheduled yet/ will be determine)
May 31st: Youth Force tape party (details to follow)
June 7th – 12th: Youth Force Mission trip. Cost $200 / $50 deposit due Jan 26th. Balance due in May. Online registration requirements. Trip Leader/Coordinator: Ben Ramsey (No regular Youth meeting this week) WE NEED A CONNECT ADULT FEMALE VOLUNTEER FOR THIS TRIP. Please contact Pastor Ricks if you can help
June 22nd – 26th: UMC Camp Spark. Cost $275 / $40 Deposit due by April 30th. Balance due by June 12th. Online registration requirements. WE NEED TWO CONNECT ADULT (ONE MALE/ONE FEMALE) VOLUNTEERS FOR THIS CAMP. Contact Pastor Ricks for full details
July: (No event scheduled / to be determined)
August: (No event scheduled / to be determined)
September 4th: Youth Lock-In Party (time/cost/details to follow)
October 28th: Corn Maze & Haunted House (time/cost/details to follow)
November 18th: Movie Night (location/cost/details to follow)
December 16th: Ice Skating (location/cost/details to follow)
---
Youth Activities and Medical Consent Form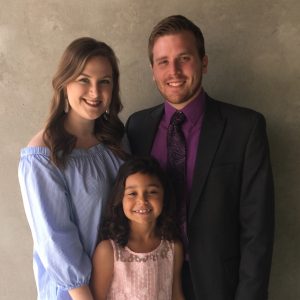 Youth Pastor
Matt Austin is Connect Church's Youth Pastor. Matt has been working at Connect since 2012 and is a great addition to our team. A recent graduate of Saint Paul School of Theology, Matt knows how to connect with youth and help nurture their spiritual growth.
---
CONTACT FOR MORE INFORMATION
Connect United Methodist Church
5400 N. Coltrane
Edmond, OK 73034
Church Phone: (405) 285-7068
Email: matt@connectumc.org or info@connectumc.org
Visit us on the web: ConnectUMC.ORG