CHILI COOKOFF & BAKEOFF COMPETITION
---
SKYLINE URBAN MINISTRIES PROM DRESS DRIVE (COMPLETED)

Date: March – April
Description: Provided gently used dresses, shoes, and accessories as well as prom day make-up and hair assistance to needy young ladies. Connect UMC members provided over 50 dresses!
---
Anna's House Foundation Back to School Backpack Drive (Completed)

Date: August 2018
Description: Back to school backpack drive and party for foster children and families.
---
LIVING WATER INTERNATIONAL MISSION TRIP (COMPLETED)

Dates – October 13-20, 2018
Description: Drilled a clean water well for an impoverished Guatemala community and educate on the topic of hygiene.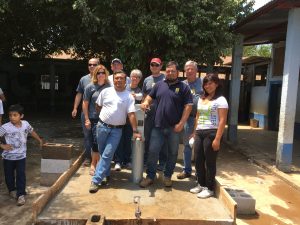 ---
SANTA'S CAUSE 2018

Dates: December 15-15, 2018
Santa's Cause is an all-volunteer organization providing last minute response to Santa letters. This is a great opportunity for the individuals and families of Connect UMC to have fun and help children.
Connect UMC participated again this year to assist in sorting, wrapping, and/or delivery of these gifts. We exceeded requested number of coats by far. Thank you to all who were our own special "Santa's Helpers"!

---
BOYS AND GIRLS CLUB WINTER COAT DRIVE (COMPLETED)

Date: December 2018 – January 2019
Description: Children's winter clothing drive.